We recently scored the Eleaf iStick 50W at the NEK Vapor Vape Trailer. Eleaf is a partner company with Joyetech, one of the most reliable brands in the vapor industry. ELeaf introduced the IStick 20 and 30 watt batteries last year. Now the line includes 10, 20, 30 and 50 watt models, and they are very tasty goods indeed. While all of the iStick mods are great, the 50 is now the king.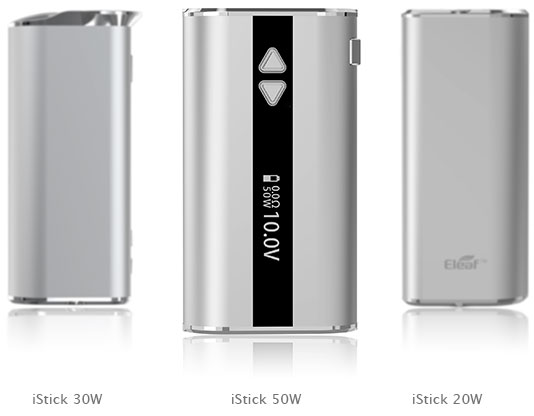 Even the 10 watt mini iStick shown here has a 1050 mAh battery!
Such a cute little peanut!
Why you ask? It has a whomping 4400 mili-amp hours of battery life. That's twice to four times what most other high-end devices offer!  For moderate vapers, that could last for days! Some users are reporting almost a full week between charges. For all this power, it's actually a fraction SMALLER than the Kanger KBox. It's adjustable from two to ten volts, and five to fifty watts. It will sub-ohm to .2 ohms, which is about as low as any sane person would want to go.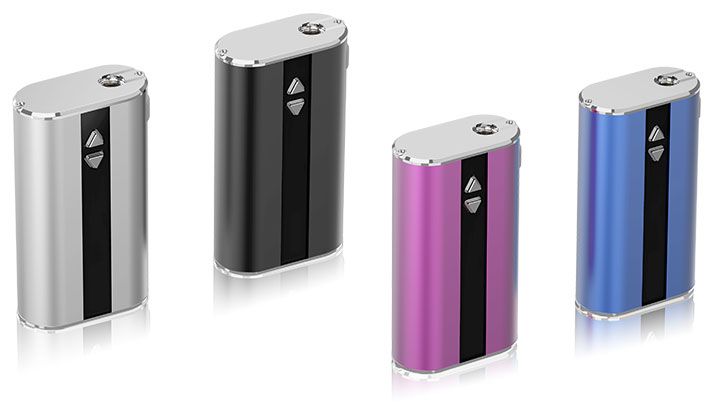 Flipping out my trusty measuring tape, this little puppy measures 3 1/4″ high, 1 3/4″ wide, and and 7/8″ thick. It's about the size of one of those "personal bars" of soap! It has adjustable wattage, voltage and various forms of protection to keep your vape experience safe. Both wattage and voltage can be adjusted to a tenth of a volt or watt. It will support coils to a cloud-chucking .2 ohms. All this comes in a small, sexy box mod that is really affordable, classy, light, and which just melts into your hand. (No, it doesn't actually melt. It's comfortable to hold. Got it?)
Other advantages? It offers pass-through vaping, which means you can vape while it's charging. If you're running seriously sub-ohm coils, this doesn't work very well, as you'll be using more energy than the charger can supply, but for reasonable people it works well. If you're working in the .2 ohm range, you should know what you're doing, and understand that There Ain't No Such Thing As A Free Lunch.
The Vape Squad had this mod in only a day or two after getting the KBox, and we've been putting them through the paces side-by-side, so let's do a comparison.
The IStick is ruggedly built, but is not as tough as the KBox in my opinion. I wouldn't go driving a truck over either one. It is far more feature-rich than the KBox. As I said before, it can be adjusted in voltage and wattage to in steps of .1 watt or volt. The IStick has a clear, readable screen. It tells battery life, the length of your last puff, voltage, wattage, and atomizer resistance. It has three buttons. The buttons are nice and smooth, and it doesn't take a degree in engineering to learn how to adjust the settings.
It has a micro-USB port for charging. As I've said before, micro USB ports are one of my pet peeves, because they can be delicate. However, the Vape Squad discovered a simple plug that will protect them. ELeaf put the charging port up high on the back side of the device. That's a good move. You can rest the device on its bottom while it's charging, and the little slot is less likely to collect grunge.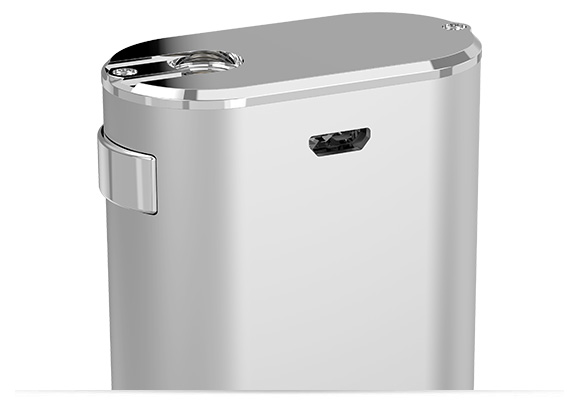 How does it vape? Like a champ. I've personally tried everything from old-school cartomizers and eGo-threaded tanks (which need an inexpensive adapter) to rebuildables to the new Kanger Subtank and Joyetech Delta II. With 450 steps of adjustment on the wattage, I was always able to hit the sweet spot for any atomizer and juice combination. That's pretty impressive.
The advantages, then? The IStick50 offers massive battery life for a very reasonable price. It does not need a separate charger or batteries. It will accept any 510 threaded device out of the box, and most eGo threaded tanks with an inexpensive adapter. It's light, compact, and stylish.
Disadvantages? Not many. The only thing we've commented on is that while the batteries last a long time, they also take a while to charge. (Eleaf claims five hours on a 1 amp charger from a discharged state.) This isn't the fault of the device. A big gas tank takes longer to fill than a small one. If you're a heavy vaper, or are running energy-sucking builds, it's probably smart to carry a back-up until you know how long they will last you.
Worldwide demand for the IStick has been HUGE, and they've been hard to come by.  We're not at all surprised for a device of this quality at this price. The Chinese just celebrated their New Year, which is their big national holiday. The factory was shut down for over a week, further restricting the supply. NEK Vapor managed to secure a limited number in blue and pink (kind of a magenta, actually). There are already numerous places offering skins for them if you don't like those colors. I personally like this skin, and may order it for my mod: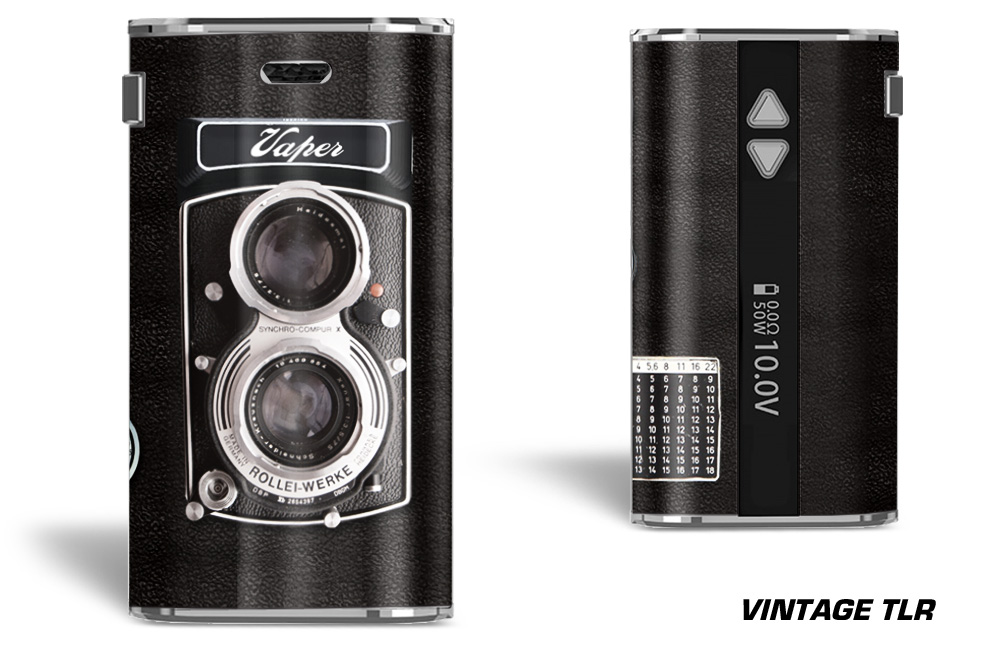 Not to date myself (probably the only way I'd get a date), but that looks just like the first camera I ever used!
Vape Hearty!
Big Daddy R